For the latest updates, please see our Facebook page.
There will be:
Three players and ten youth players from Yokokawa Musashino Artemi Stars will be joining, to coach and play.
There will be non-contact tag rugby for the newbies and beginners, and some games for those with some experiences.
Free shuttle bus from in front of Tokyu store Tama plaza, near Tama Plaza station of Denentoshi line.
Fish and chips, drinks, and snacks are available to buy at the grounds for lunch.
☆If this event is cancelled due to thunderstorms or other unavoidable reasons, we will inform you on this page.
☆INQUIRY:Shibuya International Rugby Club info@shibuyarugby.com
---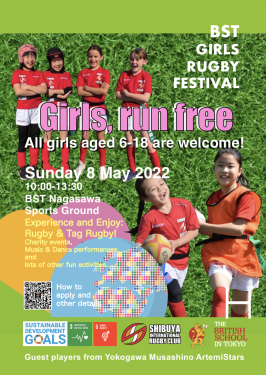 Application for participation
Application has closed.
---
Summary
▶ Organised and hosted by:
Shibuya International Rugby Club(SIRC)and British School in Tokyo(BST)
▶ Purposes of the event
To create opportunities for girls aged between 6 and 18 to experience tag rugby in a fun environment, to champion equality, and to celebrate the amazing way in which rugby can bring everyone together; whoever we are and wherever we come from.
▶ Date and time of the event
Sunday 8th May 2022, 10:00am-1:30pm
▶ Venue
BST Nagasawa Sports Ground
▶ Participants:
Any girls aged between 6 and 18, with or without experience of rugby
▶ Participation fees
Free of charge
▶ Safety insurance
Safety insurance should be covered by participants themselves.
If you wish SIRC to apply for Sports Safety Insurance, you could ask for it.
▶Time table
| | |
| --- | --- |
| 9:30 | Reception start |
| 10:00 | Opening Ceremony |
| 10:30 | 1st Rugby Session |
| 12:15 | Hula Dance Show on the pitch(Hula Dance Team in Tokyo University, "KaWelina") |
| 12:30 | 2nd Rugby Session |
| 13:00 | Closing Ceremony |
▶ Other events
Performance by guest players from Yokogawa Musashino ArtemiStars.
Charity and experiential events are planned.
Event information will be posted on this information page as soon as they become available.
---
Additional information
Safety Measures
① We require persons attending the event to check their body temperature on the morning of participation and submit the medical questionnaire prior to arriving the venue.
② For injuries during the event, we will provide emergency medical treatment at the site to the extent possible; however, please take emergency response and any illness, injury, or accidents as your own responsibility.
③ Please refer to the SIRC Safety Measures from the link below: https://shibuyarugby.com/safety-measures-ja/
Accident Insurance
Please note that participants join the event at their own risk for injuries, etc. that may be incurred during the event.
However, you may entrust enrollment in the Sports Safety Insurance to SIRC following the details below. If you are interested in having this insurance coverage, please indicate as such on the application form.
[Application Due]: 3 May 2022 (Tue)
[Insurance Fee]: JPY 800

Application cost, system fee and any difference with the insurance premium to be paid to The Public Interest Foundation Sports Safety Association are borne by SIRC.   

[Payment Method]:

SIRC accountant will send an e-mail invoice with PayPal on-line payment details.
PayPal system fee (JPY 71-76) is to be borne by the applicant
[Period of Insurance]:

When participating SIRC hosted events during the period starting from the date of application until the end of March 2023