Application for Registration and Free Trial (update:5 June)
We must regret to announce that we have currently stopped further application for new registrations and free trials. We will announce once we are able to open our application again. We will upload the official forms for free trial and registration once we open such applications. Our club regulations will be also uploaded here after reviews.
Club Fee
Registration fee

入会していただく場合は会員登録フォームをご記入ください。
(注) 現在は一時停止しております。

お支払い

会員登録を行った後、「新規入会」よりお支払いをお願いいたします。
(注) 現在は一時停止しております。
Club Fee
Registration fee: ¥10,000 (only when registering for the first time)
Monthly fee: ¥5,000
What is included in the fee
Class participation fee
Registration for Japan Rugby Football Union
Team Kit Online Order
Once you become our member, your children are requested to wear our team kit (shirt, pants and socks) during the classes and games. However, any sports wears will be worn until you will receive your team kits.
Please make your order by yourself at the following URL: https://sirckit.net/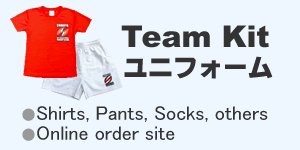 The company is called SNOOZER and the name of the store is F-H-E SHIBUYA.
It will take about 3 weeks before your kit is delivered for the very first order.
You cannot swap the size, once after the name has been printed. If you need to check the sizes, you can do so at F-H-E SHIUYA store (about 15min walk from Shibuya station).
Limited number of macron kit (previous maker) will be also sold at reduced price at "SALE" page on the site.
Any other inquires should be made to this email address:e-mail