Application for Registration and Free Trial
We are currently accepting free trial registration and new member application.
If you are interested, please see the information page below and join SIRC!
⭐️Membership and trial application
If you have any questions, please contact info[atmark]shibuyarugby.com.
Class information and practice venues
Whether you wish to join or have a free trial, you will need to choose a class for your age group. Please see the Classes page for an explanation of these and information on the practice venue (Sangenjaya, Tokyo).
Club Fee
Registration fee: ¥10,000 (only when registering for the first time)
Monthly fee: ¥5,000(¥3,000 for SHOGUN=U15)
What is included in the fee
Class participation fee
Registration for Japan Rugby Football Union
Team Kit Online Order
Once you become our member, your children need to wear our team kit (shirt, pants and socks) during the classes and games. Our team kit can be purchased from the store detailed below. Until you receive your team kit, any sports wears are accepted.
Please make your order by yourself at the following URL: https://sirckit.net/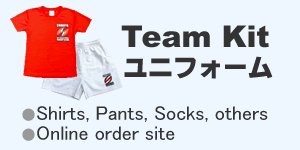 The company is called SNOOZER and the name of the store is F-H-E SHIBUYA.
It will take about 3 weeks before your kit is delivered for the very first order.
You cannot swap the size, once after the name has been printed. If you need to check the sizes, you can do so at F-H-E SHIUYA store (about 15min walk from Shibuya station).
Limited number of macron kit (previous maker) will be also sold at reduced price at "SALE" page on the site.
For any inquiries regards to team kit, contact the store directly via details written in the online store site.