The purpose of this party is to celebrate the 5th anniversary of the Shibuya International Rugby Club and make more friends among the members. The party also include an event for the Rugby World Cup to be held in France this autumn.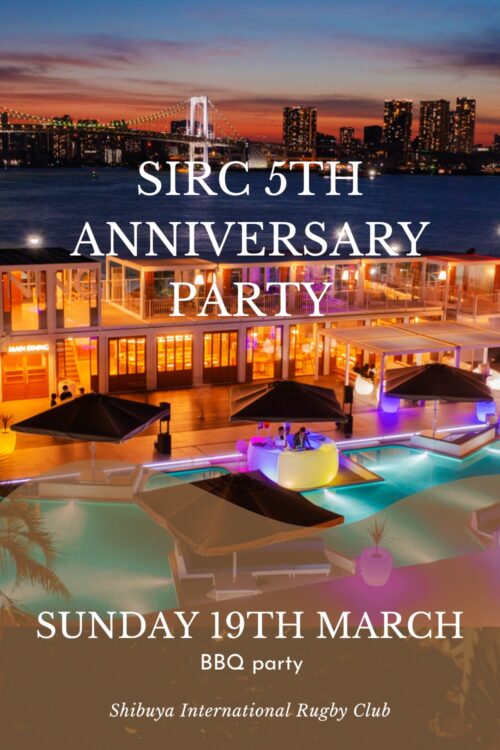 Date: Sunday, March 19, 17:00 start

Venue: Kirana Garden Toyosu 
6-5-27 Toyosu, Koto-ku, Tokyo
All-weather, air-conditioned BBQ facility. Click here for details of the venue.
Please note that the venue is different from the adjacent THE BBQ BEACH in TOYOSU.


Access: Click here for details
10 minute walk from Shijo-Mae Station on the Yurikamome Line. 
There is a parking lot in front of the facility, but it is quite limited and the parking fee is expensive. Please use public transportation if at all possible.
We also recommend the use of a cab or substitute driver
Information on the day
Dress code
Any attire is fine. Children are welcome to come in their own unique style, as they did for Halloween. (We may even have a best-dressed award). Please wear or bring appropriate shoes if you would like to join the tug-of-war. Since this is a bayside event, the temperature may be cooler and drop in the evening.
Main timetable for the day
4:30 pm Registration starts
5:00 p.m. Official event on stage
Greetings and toast by President and Chairman
Introduction of each class member (Super Ninjas will take the stage in turn)
Awards for 5-year enrolled players and distinguished service
Short talk by former Japan national team member Shotaro Onishi "How to enjoy the World Cup in France".
5:30 p.m. – 5:30 p.m.
Move to the room in each class and enjoy the BBQ. Each class leader will give a brief instruction. Drinks will be refilled from the drink by yourselves.
While enjoying the BBQ, the following events will be arranged
"Game Room" will be available for children who wish to play from 6 pm. Please feel free to visit.
Live music performances by children in the "Music Room" at 6:30 pm. Please move here if you would like to attend and listen.
"Tug-of-War Tournament" will be in the open space at 7 pm. We will proceed with "inter-class competition" and other activities based on the participation of the day. Surprise guests will also make an appearance.
There will be a "quiz competition" on stage with prizes!
For the last part of the event, we would like to sing "World In Union" (theme song of the World Cup) together for the Rugby World Cup in France. We will provide lyric cards.
There will be a professional DJ at the venue on the day, who will play a variety of music from toddlers, so please feel free to make your own requests.
End of party
The party for all participants is scheduled to end at 20:00. Families with small children may leave at their convenience. The barbecue room will be open until 21:00 and the restaurant until 23:00.
Pre-event
We are having Ken's Touch Rugby at "Gururi Park" in the suburbs from 16:00. Parking (limited) is available at a much lower rate here. Meet at the Clock tower area of the park.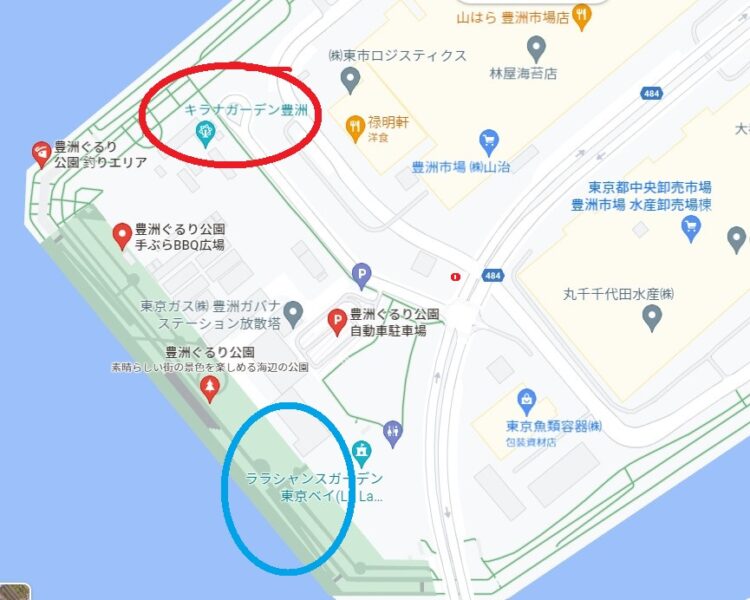 Other parking information:
NPC 24 H Senkyakubanrai Parking Toyosuichiba Parking Lot
Maximum 1500 yen/day capacity 458 cars Click here for details.
From the parking lot to the venue (10-minute walk): https://goo.gl/maps/ypYUnD1hhAJ268oD6