Let's Get Colourful!!!
Hey kids, December 6 is our last training session for the year so we've decided to add a splash of colour to jazz things up a bit!
Wear your favourite sports team shirt, your favourite colour, or something with a Christmas theme. Anything's OK, as long as there's lots of colour on the day. We want to see a sea of colour and lots of smiling faces!!
*Be sure to wear your standard SIRC shirt under your colourful gear, so we can take a big group photo at the end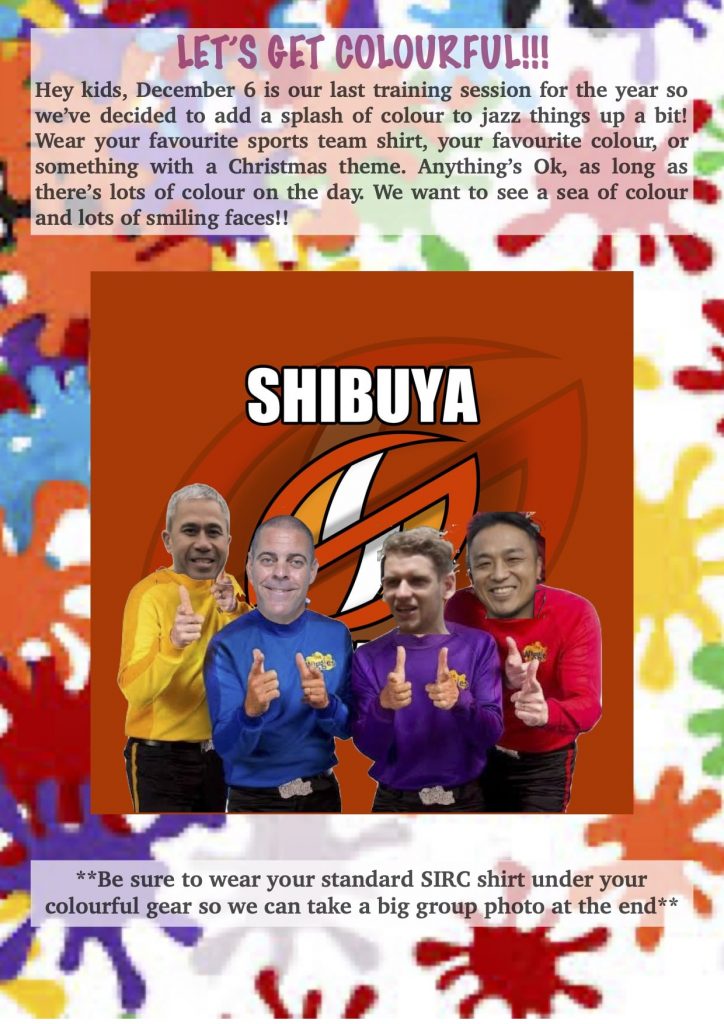 For the schedule of upcoming classes, please check the calendar on the top page.
Please also refer to the calendar for the most recent updates, such as cancelations due to weather, etc. Announcements are made by 7:00 a.m. on the day of class.

Thank you for your continued cooperation with COVID-19 measures and the medical questionnaire

.
Pleas also check the email.
In order to enter the Showa Women's University Campus, you will be required by security to present your SIRC ID Card. If you have not yet received it or have lost your SIRC ID Card, please check the email for instructions in using a temporally card.
Class venue, time and ground are same as usual, as listed below.
| Class | Time | Ground |
| --- | --- | --- |
| Super Ninja | 9:00 am ~ 10:00am | Leo Ground |
| Ninja | 9:00 am ~10:30 am | South Ground |
| Junior Samurai | 9:00 am ~10:30 am | Showa Primary School Ground |
| Samurai | 10:30 am ~ 12:00 pm | South Ground |
| Tag Class | 10:30 am ~ 12:00 pm | Leo Ground |
| Shogun/U18 | 10:30 am ~ 12:00 pm | Showa Primary School Ground |