Communication report
—10th November 2019—
The Tokyo Shimbun and Chunichi Shimbun introduced SIRC
東京新聞・中日新聞で紹介されたSIRC
The Tokyo Shimbun and Chunichi Shimbun introduced the Shibuya International Rugby Club in the article titled "The continuing legacy of the RWC.
" The Rugby World Cup 2019 has showcased the ability of the Japanese people to unite as ONE TEAM, in support of Japan's outstanding achievement in this tournament.
The local supporters' heartwarming reception of the various teams throughout Japan was also of significance to the success of the tournament.
We as Shibuya Rugby Club are committed to create an environment for the children to experience something new to continue on from the success of the Rugby World Cup.
(Communication Committee : Emi Hashimoto / Translator : Kazuko Osawa)
東京新聞と中日新聞で「大会レガシー 未来へ芽吹く」と題して、渋谷インターナショナルラグビークラブの活動が紹介されました。
日本代表の活躍、各地の心温まる交流等で、みんなが ONE TEAM になる素晴らしさを改めて教えてくれたラグビーワールドカップ2019。
未来を託す子ども達へ、私たちはこれからも新しい体験ができる環境を作り続けていきたいと思います。
(広報 橋本恵美)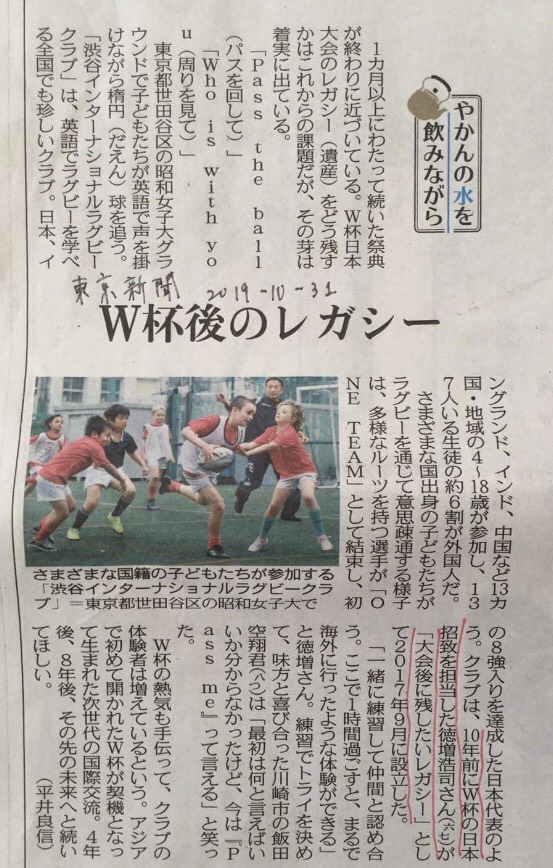 Event report
—10th November 2019—
Thank you
David Campese
To all of our friends from around the world who came to Japan and enjoyed the 2019 Rugby World Cup.
I am sure that you spent time in various regions around Japan, before and after matches, and experienced the culture and friendship of people in those regions.
I know that you are now on your journey back to your own country.
We too at Shibuya International Rugby Club had new experiences and make new friends that would not have been possible without the Rugby World Cup.
A special coaching clinic by Australian superstar David Campese is one of those experiences.
David undertook coaching to help improve the skills of our kids and be even joined us for a small lunch. This will be an experience that we will never forget.
But this is not the end! This is the first small step for our kids as they continue their rugby journey.
David Campese's website is below:
https://www.facebook.com/TheOfficialDavidCampese/photos/pcb.1226052064253088/1226046064253688/?type=3&theater
We appreciate if you write any comments on his visit and coaching on his Facebook page.
(Communication Committee : Emi Hashimoto / Translator : Melissa Inooka)
世界中から日本にやって来て、ラグビーワールドカップ2019日本大会を楽しんでくださった皆様。
観戦後の数日、数週間も日本各地に滞在し、様々な文化体験や人々との親睦の時間を持たれました。
そして、少しずつ本国に帰国されていきます。
大会期間中、渋谷インターナショナルラグビークラブにも、ラグビーワールドカップがな ければ実現しなかった交流がたくさんありました。
スーパースター、デイビッド・キャンピージ氏もそのお一人。
子ども達にスキルアップの手厚いコーチングを施してくださり、小さなランチ会にまで足をお運び頂いて、私たちに忘れられない思い出を残してくださいました。
きっとこれ切りで終わりでない。
次のステップへの始まりとなるに違いありません。
デイビッド・キャンピージ氏のサイトはこちら。
https://www.facebook.com/TheOfficialDavidCampese/photos/pcb.1226052064253088/1226046064253688/?type=3&theater
デイビット・キャンピージ氏のコーチングについてのご感想を上記Facebookにコメントを入れて頂ければ嬉しいです。
(広報 橋本恵美)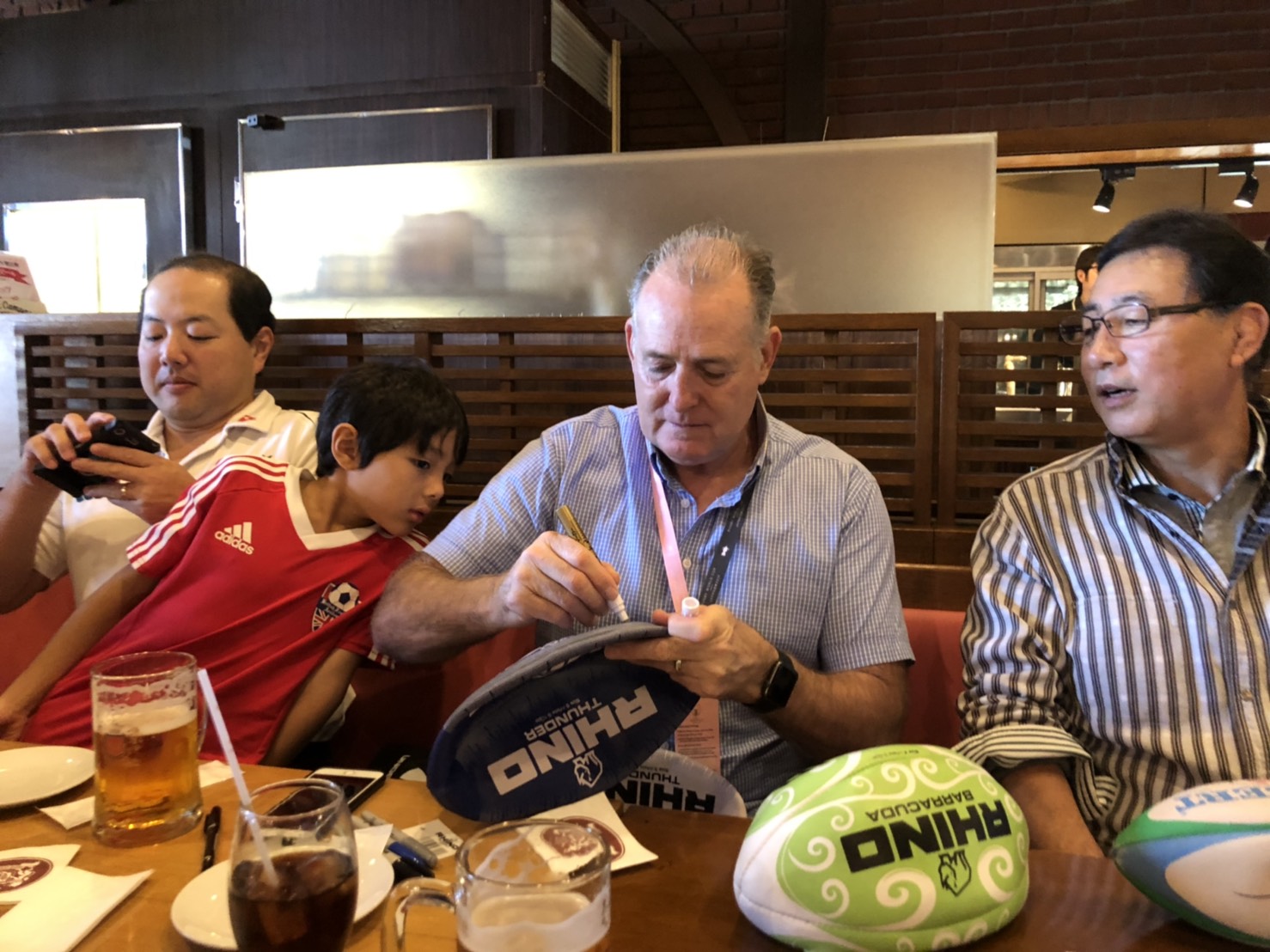 」